Despite the errors of tc we must admit that tc has released incredible designs for the entire franchise, and I would like you to put your favorites, you can take into account from default skins, canonical, what if (for example hollow raam or lambent raam) , recolors, and they do not have to be only characters, they can also place weapons, vehicles, even styles (for example the DB style or the swarm style), it can be from gears 4, gears 5 and gears tactics.
Personally to me i love the treatment they gave clayton, from hollow clayton to hivebuster clayton they are great, I also adore academy anthony and benjamin firestarter, although maybe it is because I adore gears with helmets, I also adore commandos, their design is excellent, and as for other kinds of things like weapons I really like the style of the DB weapons, pretty square and also its blue and yellow color combination.
I also have some love and hate relationships with various designs, the first is the new onyx guard, the armor looks great, it doesn't bother me that I don't have so much protection on the arms, what makes me think about using it is the helmet, the little details like the breathing filter lines or the eyes are fine, but I think it looks too square and contrasts with the armor, it is not that similar to its other versions, even the clayton helmet looks better, and this one seems to be based on that helmet,
I think it would look better if it had a more circular shape, something similar to the helmet of the v-day gear or that of the commandos, the details are fine, only that the shape makes it look something strange, and I understand that they should look like an elite , different from the other gears, but the armor fulfills that purpose well, the bad thing is that the helmet is not so harmonious in the design with the design of the armor, although it is only my opinion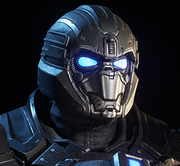 Another of these designs is the uir officer, which really does not have something totally wrong, only that in my opinion it would look better as a collector skin, the gold is similar to that of the collector skins, but I think that color would be rare canonically , maybe for the canon it would be better if the face beam is white like the standard indie, and the rest of the gold details were green, and maybe the gold of the shoulders with the uir logo would look good in red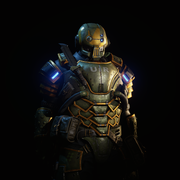 It doesn't really matter if you write 10 paragraphs saying what your favorite designs are, I really like to interact here and it will be very interesting for me to read your opinions.