Hey Everyone,
I wanted to showcase my experience of opening 20x Packs for eSports 11, for those interested to see what the drop rates are like.
I want to state some feedback for @TC_Octus and the team. The Black Steel Lambent Characters have to be by far the worst Character design and choice so far, even worse than Pack 2 (my previous least favorite pack).
The Lambent characters firstly don't really blend in well because the Labency, the colour and the way its applied to the characters looks "off" - it doesnt really fit into Gears 4's art style IMO. It hard to explain but the Lambent Lines look way to slim, too many and also a strange shade of yellow.
Also, LIGHTS! Black Steel Characters should have far more intricate and detailed lighting.
The only redemption on this pack are the weapon skins, and thats the sole reason why i bought them.
Even still, they are only considred "good" and definitely not premium quality.
I understand the focus is on Gears 5 but eSports 11 could have been so much better. I guess Pack Sales will do the talking, I dont see many people buying these.
Hopefully there is a Pack 12 - and hopefully that would be back to 5 Highly Detailed Characters and some awsome weapon skins.
The only good eSports skins are:
1). Emissive Black Steel
2). Sundered
3). Console
and also Primordial was nice too.
Having said that, feedback for Gears 5 - better packs, better value (no filler) and also more frequent packs!
Pu the right effort into good packs, with no RNG / declining card pool / no dupes and people will buy!
Anyway, here is my video, please note that the 4K 60FPS option will take a couple of hours for YouTube to process but should available soon!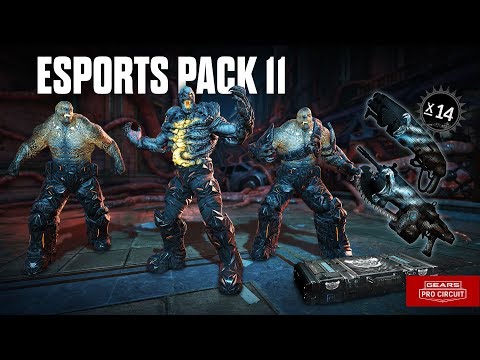 And on a side note, I think the Emblem actually looks really nice and its the first time in almost 2 years I've changed from my Rockstar one!