I'll start:
Hive Buster's DLC was just … ok.
Like a C-
Like 2.25 stars out of 5.0
You?
The next Gears game should drop PVP.
Del must die! Long live JD!
Still better story than the Gears 5 campaign!?
Imo I really enjoyed the Hive Busters Dlc with 2 buddies co-oping. I'd give it a sold 4.2 out of 5.
Using glitches and exploits to get achievements and highest leaderboard scores doesn't make you a better player.
I hope to be able to publish them progressively, my memory is quite arbitrary, it remembers and forgets things indiscriminately, and I'm sure I've thought of several of them that I don't remember right now before I found the topic, so maybe I'll put more things later
• I miss the op snub from gears 3, the current one is fine to be a sidearm, but 3 got me used to a sidearm that could easily give headshots and take down an enemy with a single round of bullets, I don't think it's a tragedy if It's not op again, in fact I think many could complain about that (and I'm sure they'd nerf it quickly), but I'd love for it to have the damage it had before
• whether in pvp or pve, I still love playing in blood drive, I know that people are fed up with it more than anything because it is always the same and you choose too much but I love playing it, not only in 5 but in 3 horde, it's not really nostalgia, because, well, how can I nostalgically miss something that is present in every game without counting 1 and UE, it's just nice to play on the map, many advocate that it doesn't come back in 6 but I would be one of those who would like to have him back
• I wouldn't mind an anime series about gears, obviously maintaining the tone, atmosphere and narrative of what the history of gears is, halo legends type, although like many they reject that idea of ​​an anime due to the fact that they reject anime in general, i guess it could qualify as unpopular opinion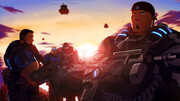 I'll remember more later
My possibly unpopular opinion that may or may not be an edge case : Carmines should be actual, proper characters with their own backstory, instead of throwaway jokes that nobody really cares about in the Campaign.
make a new ip calling it SERA and tell the story of the past.
gears 5 escape mode = gears of war 2 escaping from gas in riftworm's intestine.
gears 6 needs to be open world.
people blamed tc for EVERYTHING but in fact it's MS to blame.
carmine family are overrated and bland
gnasher and wallbounce = samurai fighting style
There's more to Gears than gnasher battles.
Pahanu is a great map!
TC and 343i are kinda similar.
TC is the right company to be handling gears.
Classes don't belong in horde
The Gnasher is actually pretty consistent; complaints about it are usually due to user error
Stop complaining about high ping. You. Just. Missed.
Lol
But on a serious note - I never liked Kait as main protagonist in Gears. They should've stuck with either Marcus and his team or JD and his squad.
Scorpio Squad for Gears 6!
The next gears game should drop PvE