Classic Brawler, always running ahead…
Lol good job! RIP Ice Queen. Will now join the fate of Surge for XP farming… just kidding the death reel at the start helps show how easily something could go wrong at first.
Also… why Burn and Recharge? Not going to lie it threw me off that there wasn't even Torch Tackle equipped for that to work lol.
That highlight reel of failures reminds me of the pain I went through doing the Master Surge solo with Blademaster in the Op 4 state where it had pitiful melee resist levels. Really annoying in the second act.
I also share the same question about Burn and Recharge without Torch Tackle, though I can see the explanation being as simple as not enough survivability to last until getting the ult from that.
The 5th card was random lol. I just clicked whatever came first on my screen
I wonder if it can be done without cards at all…
Everything would have to be perfect or whatever is beyond perfect.
Great job Rumbly, this was a very good watch!
I have tried this back in November with Gunner for a no shots fired speedrun but failed on LZ. never even thought how easy Brawler makes it, superb run!
Great job, that song you had playing after you left the safe room worked perfectly.
Thank you all!
@Moss994 i was thinking about doing it as Gunner with only Bait Armor and Sole Survivor equipped. And I think you will need an Overkill before getting to safe room. So you can take care of Juvies on the LZ.
I went without weapons for the duration of Act 1, and once you get to safe room there's a Longshot and an Overkill, a flash and an orange crate, making it 2 x flashes, 7 bullets for Longshot and 14 rounds in Overkill. My idea was to run the whole thing without firing a shot, failing that picking up the Overkill would have guaranteed a simpler completion as I simply got overrun by juvies at the LZ.
Another tip for running Gunner on any hive with the Short Ultimate duration modifier - equip the Team Resist card. Your ult will run out in around a second, but Team Resist will keep you alive for another x seconds (I think it was 6 seconds on level 6).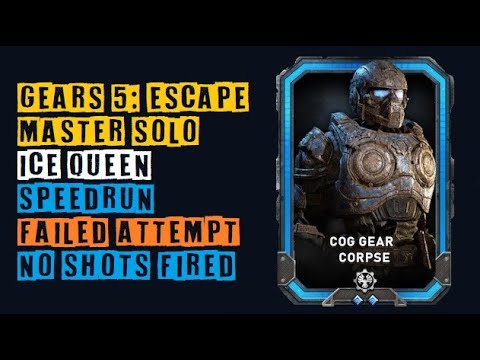 Thanks for the tip!
After I mentioned overkill I realized it won't work for your objective which is not firing any shots.
I'll give it a try this weekend and see how it goes.
Watched your run and it was a very good attempt.
Man, those Juvies… the only thing that comes to mind is to have a frag or shocks for the end… there are just too many of them.
Man, someone butchered Neil Young's song.
It's a Neil Young cover by Battleme as featured in Sons of Anarchy.
Had to butcher it unfortunately.
No, I just mean that cover version of the song is absolutely terrible.
"Butchered" was always slang for "ruined."
The only good cover I've ever heard of that song was by Chromatics.
"let's get some quick and easy Cards and Xp on Ice queen"
Said no one ever.
It's definitely not. But it was fun to see if it can be done.
On a slightly related note, as The Surge was the daily Escape yesterday/today (depending on timezone), it was funny that very few lobbies were on master.
I managed to play about 3-4 games of it on master and only came across two players who repeatedly tried to run through act 2 (despite me repeatedly telling them not to). Seems like people are wising up now!
I got kicked from second Act the other day when host wanted to speedrun on Master. I messaged in game that it won't work. Next thing I know - back to lobby lol