What is happening here?
You can see the first 3 shots missing me by miles, yet the blood particles are spawning and I take damage from all of them. This frame is the exact moment the 3rd bullet connects, you can see the blood by my shoulder and the bullet (the bright one) passing me by.
I'm at around 40 ping and the person shooting I think was around 80-90.
Now is this ping issues? Or is it magnetism?
Did they see what I see? (Them missing every shot but still getting a down)
OR on their screen did every bullet connect?
Did they shoot first or did I move first?

Am I just reading this wrong? Any tips on how to combat this? I don't know how to read this in game and react. Keep in mind in real time this is about a second and a half from first bullet landing to being down.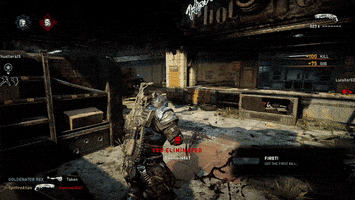 This is the fourth bullet. I honestly can't tell if it connects with my body but the game says it does and I go down on this shot.

Feel free to share other examples. Playing Ping or Mag could be more fun than Gears 5 at this point.