I am a fan of this type of thing called lost media since some of these have some quite interesting history or background, and since it is a fairly general topic, which could cover almost any other topic because I have come to wonder if it exists something interesting about gears that could be considered lost media that we could talk about, idk, is there anything you remember about gears that you don't currently find or do you think there is something about gears that could be one of these things?
I have not found very interesting things, there are things that could be considered LM but they could also fall into other categories of other types of things, for example, as I have seen that there are some video game betas that have come to be considered LM I guess the betas of the different gears would also be? being perhaps unreal warfare the most interesting of all, although as I said, I feel that this falls more into the category of "game betas" than in "lost media" so I don't know how correct it is to consider this
The most interesting thing I could name is that canceled Kinect game called "gears of war: tactics" (there are several canceled and incomplete games that are considered LM, one of the most famous examples is spiderman 4), sadly they already deleted the YouTube gameplay but there is a photo and an article about that, is interesting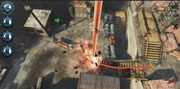 https://vgleaks.com/gears-of-war-tactics-gameplay/
and well, is there something interesting that you know, or something like that?